About Us
festivalPass. life. lived. live.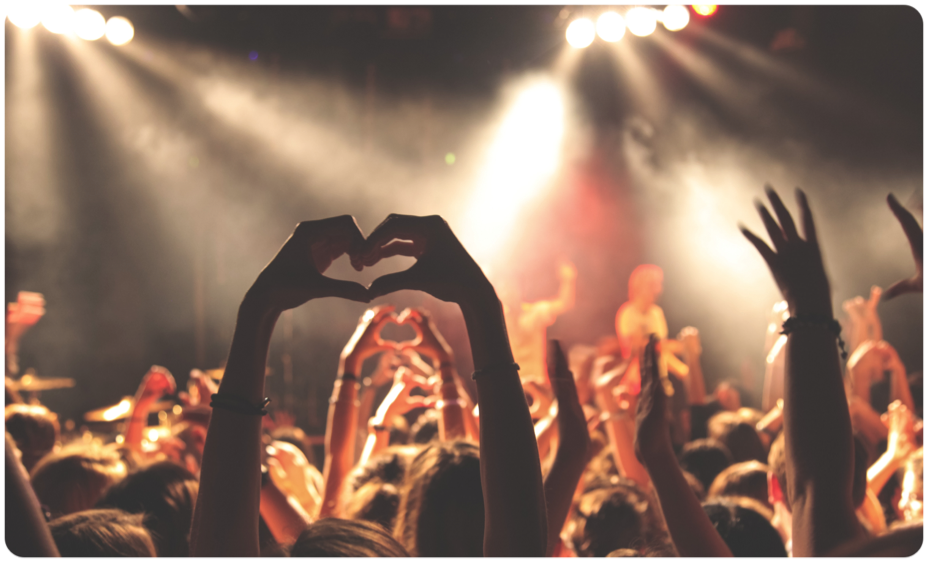 festivalPass story
The world's first live events subscription service across music, film, food & wine, theater, tech & innovation and more. Enjoy thousands of events locally and globally for one monthly fee.
The company was founded on the mission to inspire people to lead active and engaging lives through passion-connected member experiences. Members of festivalPass can enjoy 80,000 plus live events from the most notable festivals like Coachella and ACL Music Festival, to live shows with GRAMMY-winning artists like Dua Lipa, John Mayer, Billie Eillish and more with a unique credit system. Members can also use their credits to book rooms at over 600,000 hotels at reduced rates.
festivalPass is embracing the evolution of entertainment into Web 3. In addition to adopting various blockchain technologies to drive its business, the company shares the philosophical belief that community is the core of any business and should participate in its future. In addition to accepting cryptocurrency for subscription and ticket payments, festivalPass will be launching the first ever Lifetime Founder NFT for live events in June 2022 with incomparable access and utility.
"When we founded festivalPass, it was under the belief that live entertainment should not be transactional," said festivalPass Founder & CEO Ed Vincent. "We envisioned a community in which members could interact and share around the entertainment passions they hold and where their participation is rewarded. As Web 3 became more mainstream throughout 2021 it became apparent that not only the technology of Web 3 but the philosophy of Web 3 supports our mission and goals to bring participation and ownership to the live event world."
Members access, discover and attend live events in the most user friendly, frictionless and affordable ticketing experience. Instead of buying tickets with high transaction fees for concerts, festivals and events, festivalPass provides members access to tickets for thousands of events and festivals with a unique credit system. The membership includes credits to use for any event or festival, which means they can try as many experiences as they like. festivalPass members pay a subscription ranging from $19 to $99 a month and receive credits to access tens of thousands of events nationwide. Members have the ability to redeem credits for tickets across the US, and hotel rooms globally.
"Accessing tickets to live events has been a transactional, nonsocial, inefficient experience for decades," says festivalPass Founder & CEO Ed Vincent. "Live events fans can now discover, access and get no fee tickets to over 80,000 live events of all types and sizes through their subscription membership in a community driven, social, frictionless, single source platform that rewards them for their loyalty and participation in the community. The higher tier a subscriber signs up for the lower the cost of the tickets."
Now festival and event goers from music, art, food & wine, film and other interests can become a member of festivalPass and join the millions of life fans from around the world choosing to enjoy experiences live.
The team at festivalPass spans the globe from Austin, New York, Aspen and Detroit to as far away as Lisbon and Bali. Founded by CEO Ed Vincent, a 20+ year proven entrepreneur and product leader with multiple exits, the unique marketplace model has attracted high profile investors and a growing team of executives determined to allow fans to consume live events. Stephan de Bernede, a 10+ year HomeAway - VRBO executive and partner in a blockchain venture fund, recently joined festivalPass as its Chief Business Officer.
Notable local and national investors include Brian Sharples, co-founder HomeAway (sold to Expedia), Shelli Taylor, CEO of Alamo Drafthouse, Jason Dorsey, Millennial and Gen Z Expert, Jacob Trouba, NHL Hockey Player for the NY Rangers, Tom Chavez (sold Krux to Salesforce and Rapt to Microsoft), Townsquare Media, America's third largest radio network, Raj Doshi, Google Fiber, Chief Growth Officer, Bluecora (Nasdaq: BCOR), Peter Gibson, Sold Knowledgent to Accenture, Kevin Segalla, Founder/CEO of Tilting Point and several more.
In addition to an impressive investor backing in which several investors are on the festivalPass Advisory Board including Brian Sharples, Sheli Taylor and Jason Dorsey, the company has attracted additional powerful advisory board members including Lisa Licht, Former CMO of Live Nation Concerts, Lou Schwartz, CEO of publicly traded Engine Media, Geoff Cottrill, Former SVP Marketing CocaCola, Starbucks Entertainment, CMO Converse and current CMO of Top Golf and Vincent Sarafa, Chief Strategy Officer of Augeo, a global leader in loyalty and engagement platform solutions among others.
We are in this together. Find your tribe and join us in changing how we all experience festivals and events.
festivalPass Mission
Inspire people to lead active and engaging lives through passion-connected member experiences.
festivalPass Core Values
Design Thinking - Everything we do starts with the people we are creating for.
Experience is our filter - Our mission and reason for being is to embrace an experiential life. The experiences and partners we serve become the filter to our decisions.
Culture of Gratitude - We appreciate our people, our members and the world in which we are creating for. We practice gratitude, not just talk about it.
Product is Marketing/Marketing is Product - Our product is our best marketing asset and we strive everyday to make it better.
festivalPass Team
Ed Vincent Founder & CEO
Interim Head of Product & Data, MoviePass
Founder, Predict Analytics - Data Strategy & Platform for Media and Entertainment
Co-Founder, Connected Intelligence (AI Data Platform)
Founder SimplyEngage (Martech SaaS) sold to Modomodo in 2014
Stephan de Bernede Chief Business Officer
20+ years leading tech companies of which three went public during his tenure including Garden.com, Motive, Inc. and HomeAway
10+ years as a Senior Executive at HomeAway/VRBO (acquired by Expedia)
Partner of a Leading Blockchain Venture Fund, Translunar One